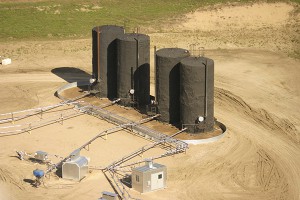 This fully engineered CESL galvanized zero ground disturbance secondary containment system is designed to exceed today's strict environmental guidelines and regulations, delivering your best long term insurance against primary leaks or failures. Its design allows for environmental protection against oil and gas as well as liquid fertilizer.
Secondary Containment
It's virtually maintenance free and won't wash away like earthen berms or crack like concrete containment systems when exposed to repeated freezing and thawing. The galvanized steel construction and superior quality components allow it to withstand the harshest environmental conditions and provide excellent corrosion resistance.
The steel panels are corrugated to provide optimal lateral strength with a flanged top for added safety. Each sheet is a manageable weight and size with precision cut hole punching for easy fit and assembly.
Zero Ground Disturbance Containment System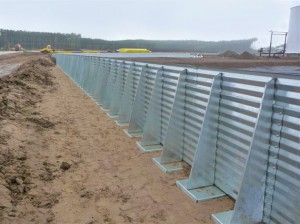 This zero ground disturbance containment system does not require post hole drilling, eliminating the expense of hydrovac or anchor trucks for installation. The simple modular design bolts together easily and requires less time to install than traditional containment systems. Its sectional design allows for adjustments to the size of the containment after initial installation as capacity is added or subtracted from the site. It is easily dismantled and moved from site to site; a significant cost advantage over permanent containments.
Round, oblong, square, and rectangular patterns for both single and multiple tank sites are available. When the standard shape doesn't suit your needs, custom configurations can be designed.
The CESL galvanized zero ground disturbance containment system is the clear choice for short and long term value, particularly where space is a concern.
Accessories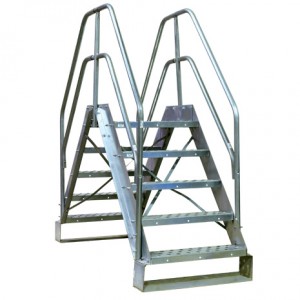 We offer a wide variety of accessories, making your containment safe and easily accessible. The galvanized Crossover Stair and Crossover Ladder provide safe access and egress from the secondary containment system, both the ladder and the stair are constructed of heavy gauge galvanized steel to extend the life and durability. Sturdy handrails and patterned treads provide stability and safe footing for the worker. The galvanized square access door provides effective access for desanding of the tanks.
Safety
Along with excellent product and crews that are both professional and efficient, Contain Enviro Services Ltd. has a strong, effective safety program in place. We currently hold a Certificate of Recognition that we have maintained since 2001 and are committed to ensuring the safety of our crews and those working with us.  Contain is also an active member and compliant with the following contractor management companies:
ISNetworld

Complyworks

CanQual

PICS